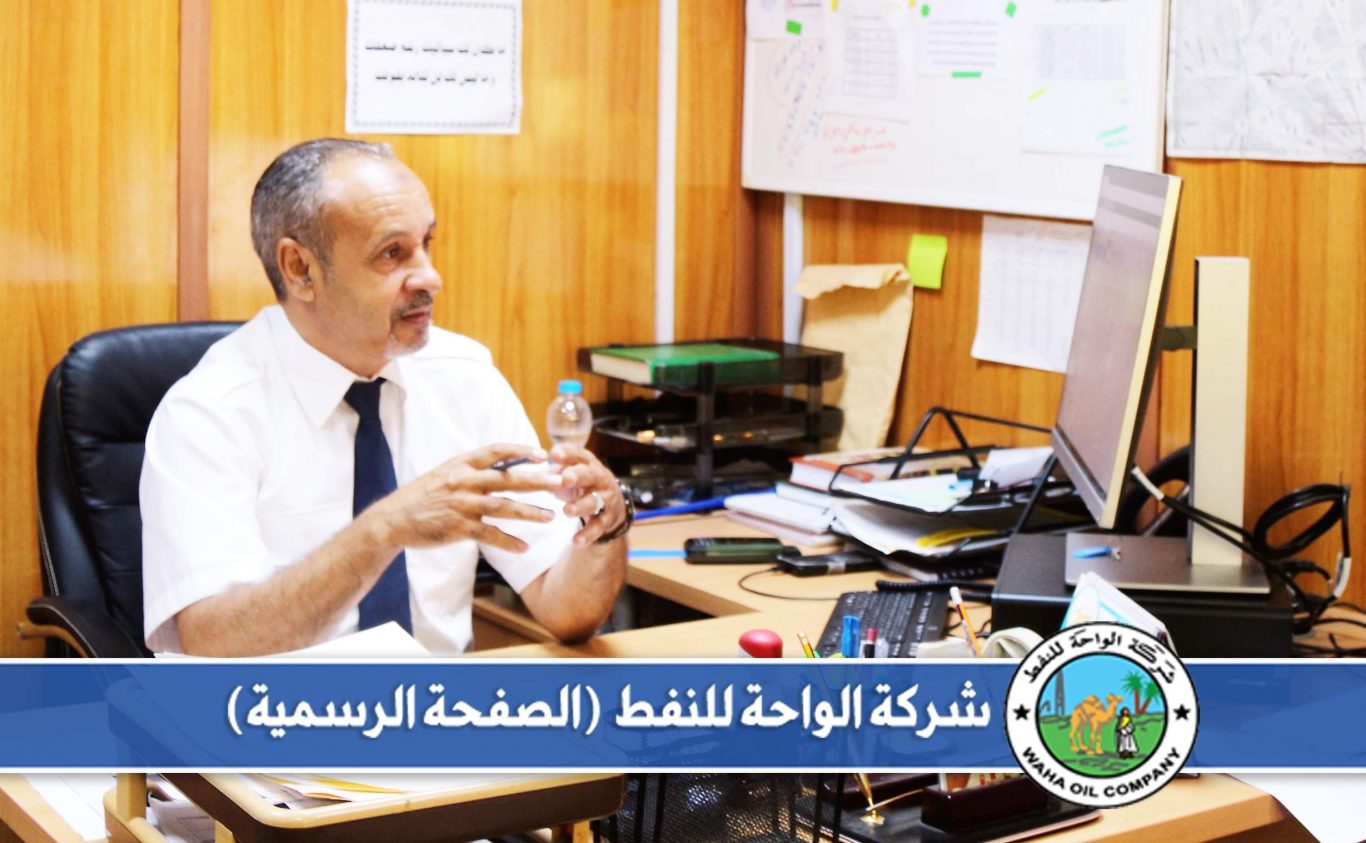 Aviation service at the company is going to improve
(Media Section )
There is no doubt that aviation services performance level at the company is considered one of the essential elements to perform works in all various sites of work since tasks and works of oil operations are deep in the desert where oil fields are located on a very long distances between sand dunes. That matter which requires that aviation services shall be in full readiness all the day and night, moreover all climate circumstances and events and others.
In order to define and introduce the level of aviation services at the company this brief meeting was held with Mr. Adel Taher Swessi ,Aviation Section Supervisor at Hay Al-Akwakh ,Tripoli ;in which he talked to us frankly and clearly about the section and its employees activities and employees travelling procedures to oil fields and sites.
Mr. Adel started his speech welcoming us moreover the huge number of calls he received relating to travels and cancellation or confirmation of flights dates for employees travelling from or back to their work sites.
Section Duties and Tasks.
Aviation section at the company was among the main basic sections affiliated to Transport and Services Department which consists of five dispatchers, in addition to a secretary, liaison officers and Section supervisor.
The section is dedicated to complete the employees travelling procedures from and to oil fields and all things related to sending and receiving of mail belongs to the company ,running emergency flights and medical evacuation and making sure of time table of various flights. The section also coordinates with Petro Air Company and Air Libya Company as well as Civil Aviation Authority regarding the renewal of airstrips at the oil fields and terminal, in addition to any notes received by Civil Aviation Authority pertaining to Waha Airstrips.
He also added that there are other flights to Zentan , Bnina and Misurata airports which include departure or arrival flights of employees worked at oil fields or those who live in these areas or nearby cities.
Mr. Adel also stated that they have a private flight to Gialo city once two weeks dedicated for carrying the passengers of Wahaat Cities as an aid for them since there is no airports in these regions. Of course, this is an initiative from Management Committee. Emergency Medical flights are also run ; in which these flight require flying ambulance. Emergency flights may be run at any time and civil air does not work after sunset and aircrafts do not work only in emergency cases.
About difficulties that encounter the section Mr. Adel stated that due to the current circumstances and flights suspension at Maetiga airport we do have an exceptional case since the flights to Misurata airport needs a pre-preparation and distance between Tripoli and Misurata is about 225 km. We are obliged to delay the flights in order that employees could be able to arrive at the fixed time. We found solutions for some problems by providing a means of transport for employees from Tripoli to Misurata and vice versa.

However, regarding the delay of flights and complain of some employees since we have contracted with Libya air company no more problems like before and delay was when flights are run by Petro Air Company. Passengers while they went to the airport they got surprised by cancelling the flights. This matter occurred frequently .No more problems in travelling, conditions are better now because the leased aircraft was located at Waha field and only Waha employees are carried. If God is welling , Transport and Services Department Is seeking to develop the level of aviation services at the company.
At the time being there is no coordination between us and Petro Air. We run flights through the leased aircraft from Libya Air Company which carries 90 passengers located at oil fields 24 Hrs a day. Therefore, we did not suffer any problems nowadays and Petro Air Aircrafts are stopped since last April.
Mr. Adel also stated that Waha has dedicated two guest houses for employees who live outside Tripoli in order to wait for flights providing to attend to the guest house one day before their flight stay for one day then to be carried by bus to Maetiga or Misurata airports as it is in the exceptional situation. There are some people live outside Tripoli for example, Garaboulli and others we do provide means of transport from stations at these cities to carry them to the airport.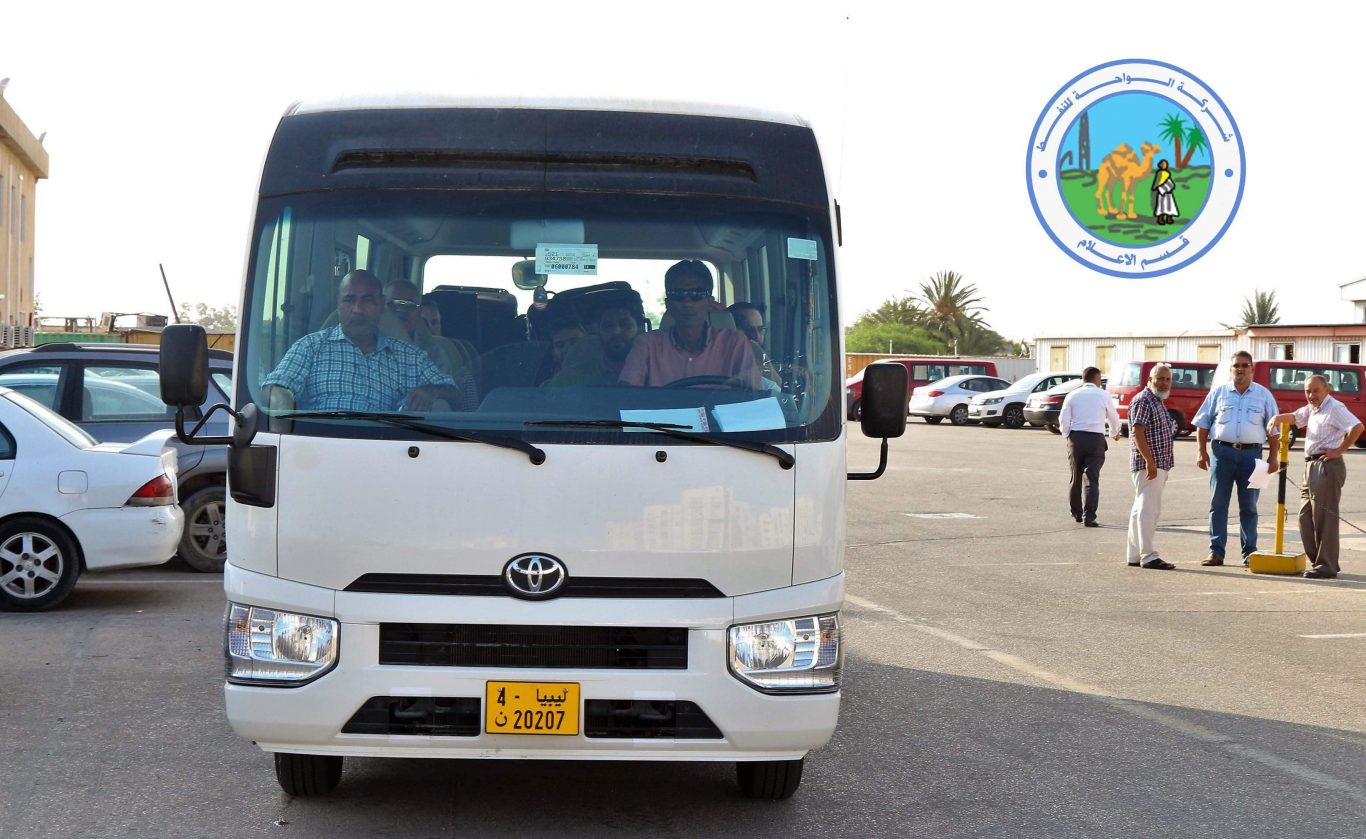 Finally, do you have any thing else to add ? Mr. Adel replied saying I would like to thank all employees at Transport and Services Department particularly buses drivers and we do appreciate very much the efforts paid by them through driving the buses for two days for a distance of about 450 to 500 km. We do also thank Manager of Transport and Services Department that we do always work under his instructions to provide the best services for employees informing them that any default is beyond and out of our control. Sometimes flight are delayed particularly for those travelling from Misurata airport due to reasons known only by the competent authorities at the airport.