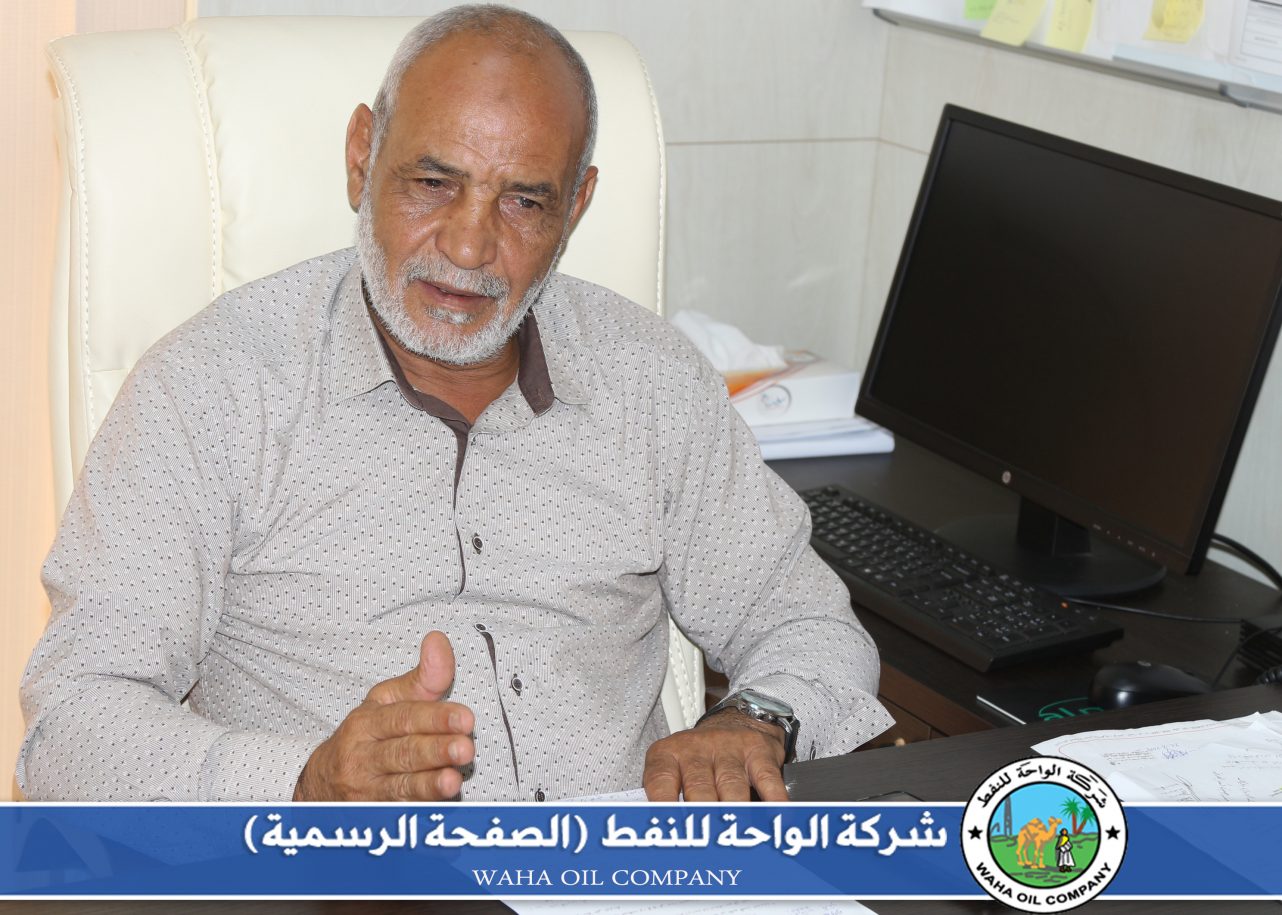 · The budgets restricted us, the workload is huge and the requirements are bigger
· Our budgets don't meet our expenses and we work with minimum capabilities.
· We have the skillful young men with a high level of accuracy and professionalism.
· In a very limited time, aviation problem will be over.
(Media Section)
To have a personality who is familiar with work is something difficult, let alone to have a person who is aware of culture, media, theater and directing, that matter of course is something else.
Mr. Abdelhadi is the son of Waha Oil Company. He joined the company when he was a young man at the beginning of the year 1980. He lived all its stages. The oilfields at the desert was his first destination.Be compatible with its climate, learned of its difficulties and inhale its air. He was very committed and persistent. That matter which makes him gaining the trust of his supervisors. He was assigned to several tasks and he made gradual progress through career-grade. He was assigned to chair the administrative unit at Gialo Field. He hold the position of Superintendent of Transport and Services Department at Tripoli on August 2017 then, the position of Manager, Transport and Services Department.
His speech about the desert has a longing for the desert that never ends. He narrated for us his story and passion about the oilfields. That formal, manly environment away from the stresses of life and social obligations.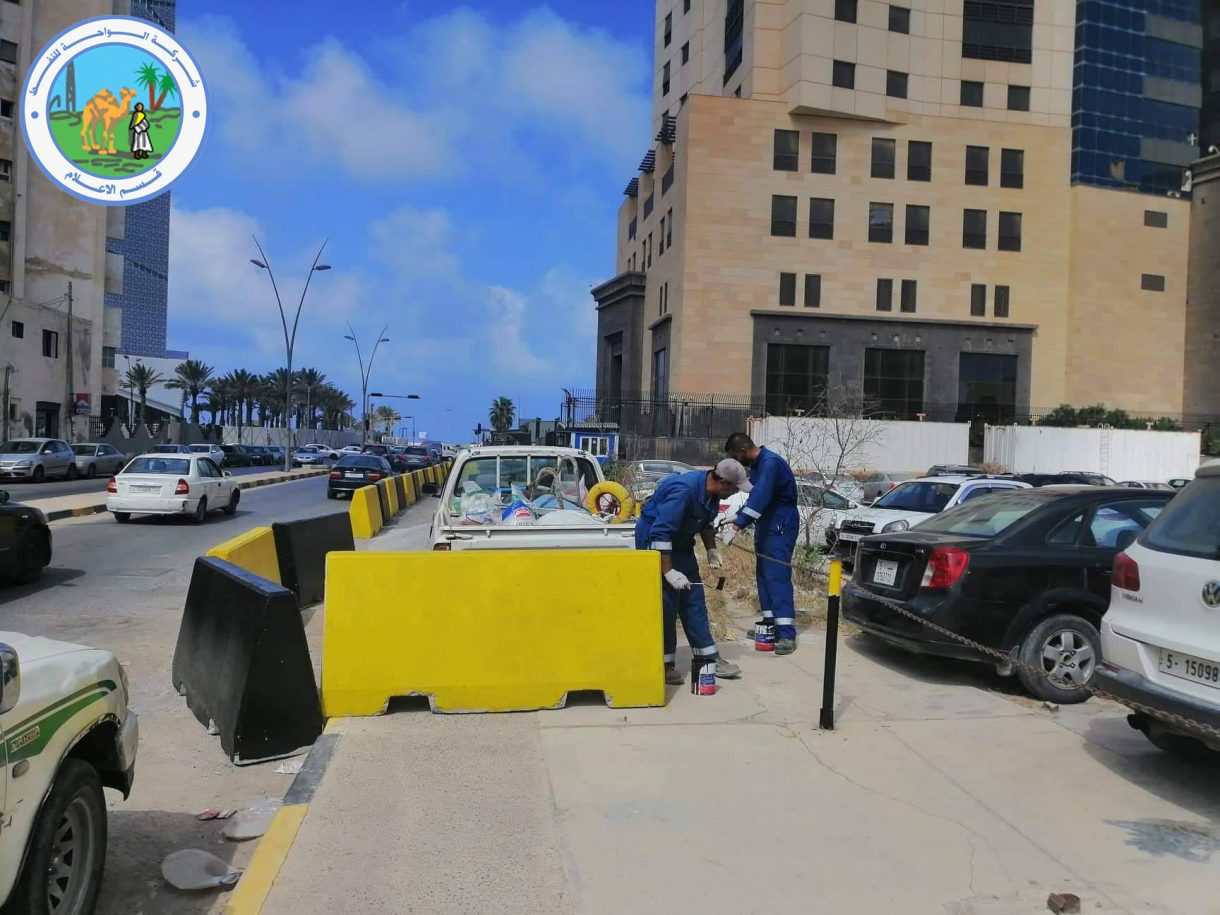 · How your work was while you were working at the oilfields?
It was a very exciting period of life. It was an environment different from the city. Work and giving were our most concerns. We are proud to work at WOC ; where we were very impressed with the discipline and commitment to work schedules, eating and sleeping. All what we do is to work
specified hours and all employees are comply with. Moreover, the low of budgets paid to us, low of salaries and merits and advantages however, we spare no effort to perform our work.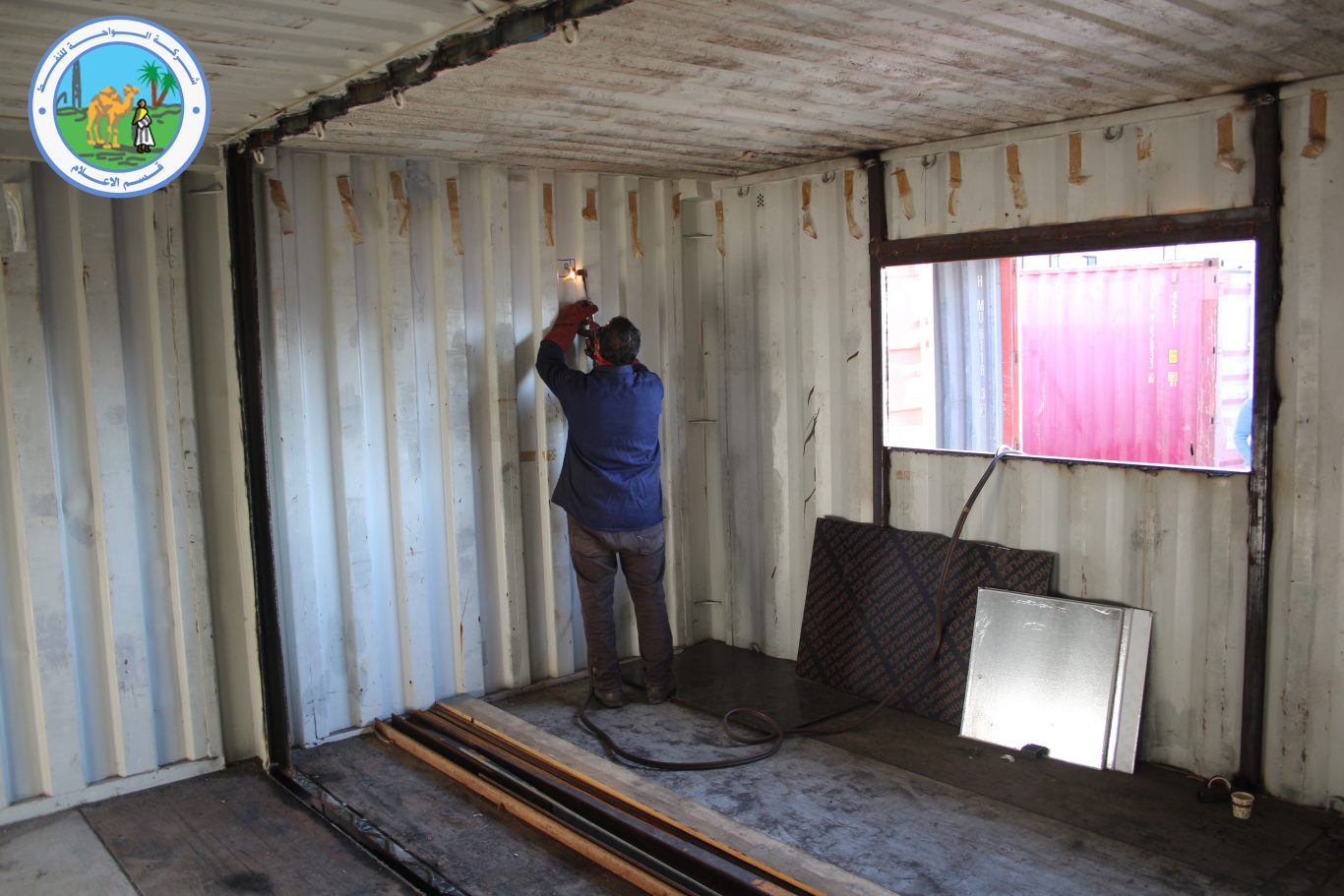 · What is the difference between expatriate and local employees?
When I joined work at Dahra field in 1980 I found most officials were expatriates whether they were English, Canadian, American or from other nationalities. Therefore, we were familiar that they were who run the work. We were living in this illusion till November 2011. After liberation, I went with a work team to Gialo Field and another group to Essidre Terminal. The oilfields at that time was mostly destroyed, no water, no electricity. The young men started work from zero and break down that illusion that restricted us for a long time. They proved that they are trustworthy and dependable. They resume production in a record period and shipping was resumed through Essidre terminal. Libyans nullified all what are said by foreign and Arab experts who confirmed that Libya will not return to export until late 2012.The surprise was that the first shipment was in December 2011, which confirmed to the world that Libyans are capable to run the oil fields by themselves without depending on the foreigners irrevocably.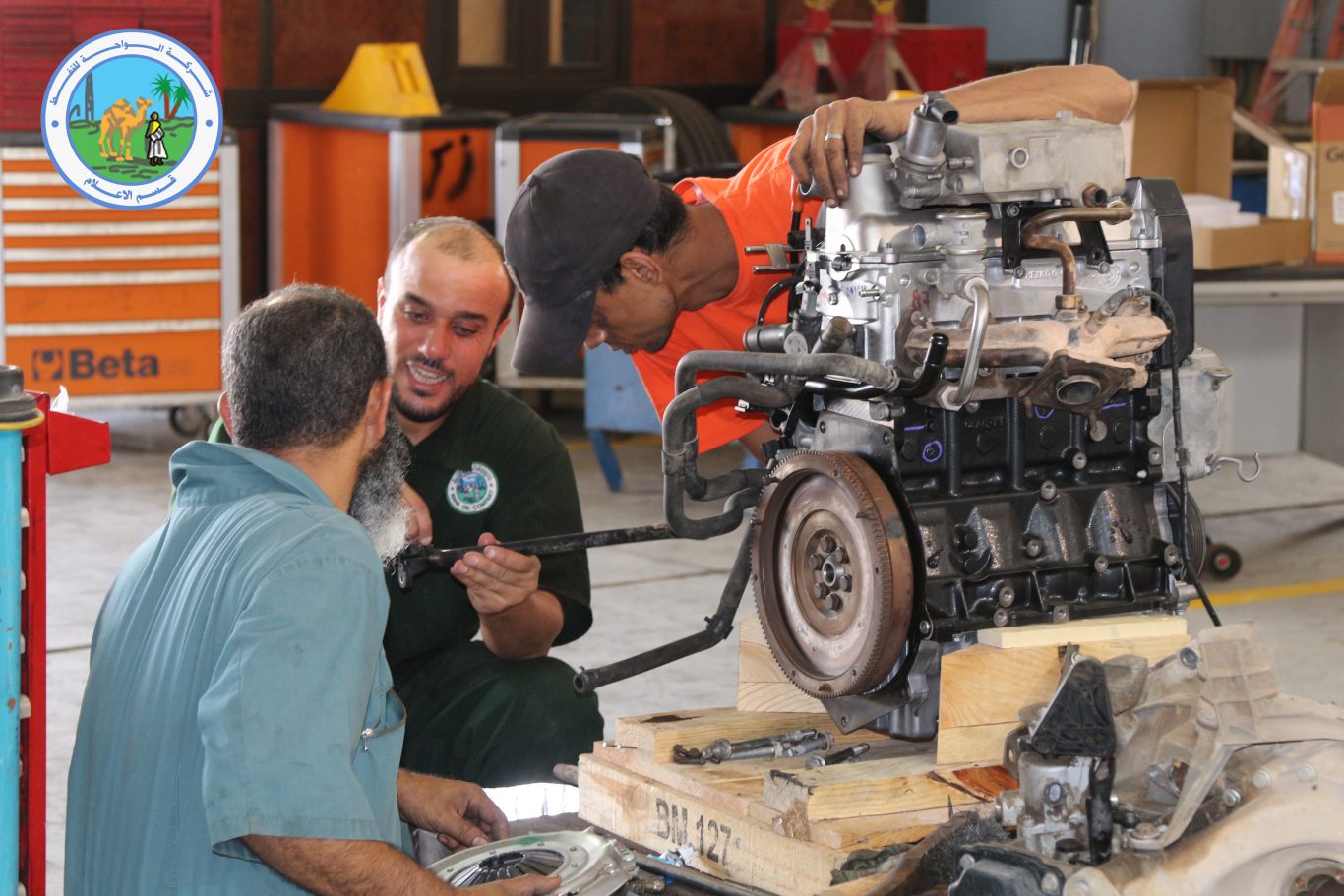 · What is the organizational structure of Transport and Services Department?
Transport Services Department consists of:-
· Transport superintendence :-
It consists of the transport sections at the oil fields, terminal and carpool section at Tripoli office. This superintendence and its sections carried out all the requirements of heavy and light transport as well as the required works such as heavy machines and equipment in all sites.
· Maintenance Superintendence:-
It consists of all workshops in all various sites of the company. These workshops are liable to maintain those vehicles and machines, providing the necessary spare parts through the planning superintendence.
· Planning and follow up Superintendence:-
The Planning and follow up superintendence carry out the execution of purchase orders received from other Superintendences and study the stock reserve for all requirements and needs of the department.
· Is there any overlap and mixing of tasks between Planning Superintendence and Materials Department regarding the orders? Mr. Abdelhadi replied:-
There is no confusion since everyone has its own tasks ,the planning superintendence prepare the purchase orders and input hem in the system ,then the role of Materials Department commence.
· Services Superintendence:-
The work of Services superintendence is limited to work at the sites of the company in Tripoli. It is responsible for providing the requirements of all other departments such as offices, furniture, materials and catering. It also includes a maintenance section which is responsible for air-conditioning, electricity, welding, carpentry and catering section maintenance; which in its turn is liable to follow up the company guesthouses and pay attention to the meals and cafes. In addition to photocopy section which carries out the photocopying and binding of all matters required such as the meetings of the general assembly, budgets and what training and other departments require of photocopying memorandums and papers in addition to the distinguished services of post employees by delivering the correspondences at the fixed time.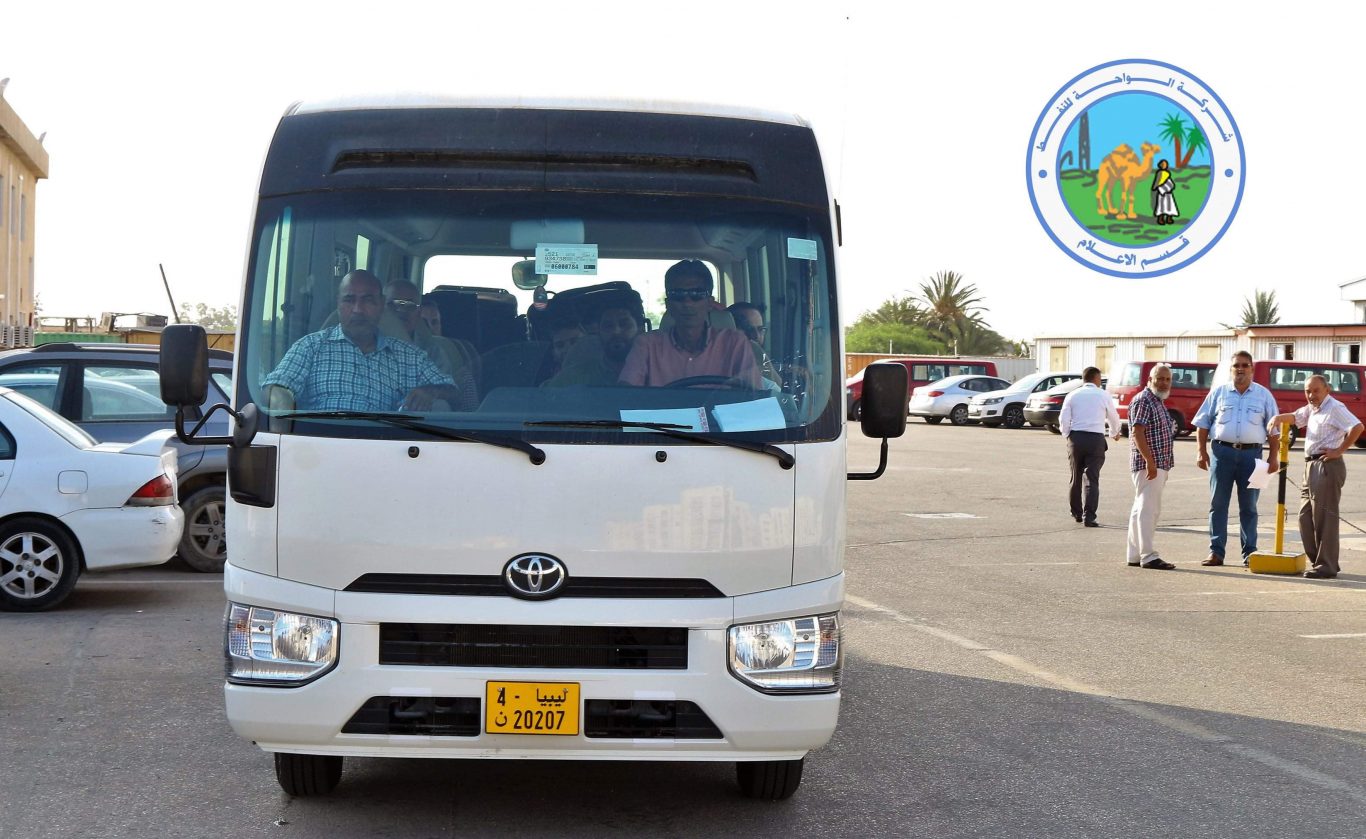 · What are the future visions and plans?
In the frame work of a studied plan, T &S Dept. is seeking to provide a number of vehicles to oilfields and terminal. A large number of vehicles were arrived in addition to provide heavy equipment, trucks and buses, so the leasing issue will be over that matter which exhausted the budget company moreover the decreasing of the budget for this year. However, we will receive a number of (7) ambulances and (6) garbage trucks by the mid of the next year 2020 besides forwarding the rest of orders to the next year.
· Every work has some difficulties so, what are the problems encountering you?
During 2011 the company sites were looted and stolen. After that, it was imperative to compensate the loss in everything such as trucks, vehicles, furniture and equipment etc…That matter of course requires huge budgets and unfortunately the budgets did not meet the requirements. We are also encountered with the number of employees in the company sites at the oil fields ;in which we could not be able to consume the total number of employees due to lodging, catering reasons etc…So, then we depend or rely on (60%) only from the total number of employees in each site.
· How do you reward the dedicated employees and those who paid additional efforts during their work?
· We do work according to specified regulations and they cannot be exceeded such as the ideal employee regulation but, as a department we deal with those who work hard with full appreciation and under the company policy .There is an annual evaluation, request of additional reward for them and other means of appreciating them financially and morally. We will not lose sight to appreciate and reward those employees who have developed these old and dilapidated containers and turned them into existing and usable offices, who opened windows and doors, performed precise welding operations and saved the company huge amounts.
· It's worth mentioning that all employees at Transport and Services Department, Planning ,Maintenance, Aviation ,Catering ,Vehicles Maintenance, Invoices, Administrative Affairs ,Cafes are aware of the importance of their work and they know that all departments perform their works due to the services they provided to them. If they perform their work perfectly this matter will be reflected on all departments.
· What about the last updates about aviation issue and ambulance vehicles?
In terms of aviation it was contracting about flying emergency aircraft (under order).It will start work at the beginning of November (If Allah Is Willing). However, ambulance vehicles they will be received by the mid of 2020. They are (7) seven ambulances equipped with the recent medical devices and machines and will be distributed to all various sites of the company.
Now we are currently concluding a contract for an aircraft type 410(LET) with a capacity of (19) passengers; which will work between oilfields and terminal.
Any addition:
First: lots of employees at the company do not know the importance of T&S Department and the effort it paid towards the other departments (we do not underestimate the importance of other departments), but the circumstances and difficult possibilities and double effort required from us do not met with some employees with gratitude unfortunately or even to say a word of thanks to their colleagues in the department.
Second: It's noticeable that employees at the company misuse the vehicles and this act cause a loss to the company and make T&S Department work more difficult.
Third: I am passionate with media work since i have dealt with book and theatre for a while. Media is very important, it should be considered an essential base at the company since transfer of information to the employees is of the most important type of awareness as well as media advice. All that assist to put the facts in front of the employees and help to understand what is going on. Media also has a big role in raising the morals of competent employees to shed light on their works.
Wishing for you the success at your work